"My daughter has been going to SMART for five years. She is 39 years old and for her entire life, I have sought out places where I could feel she would be safe, protected, respected, never judged, and encouraged to be the best that she can be in every way. The places were few and far between until we found SMART. From the first moment we drove onto the property, I could feel a sense of relief and peacefulness come over the both of us. Each and every person involved in this wonderful endeavor is caring, kind, accepting, and committed to providing a wonderful experience for Kelly. She finally has something that is entirely hers without my involvement. I know that I can fully trust each and every person to always put her best interests first and foremost. Her smiles and achievements give me boundless joy. She tells me all about the lesson and how much she loves riding and caring for "her Cherokee." She is encouraged to be herself and to believe she can do whatever task is put before her. There is nothing more that I could ever ask for her. "Thank you from the bottom of my heart for giving Kelly this experience."
- Linda Miller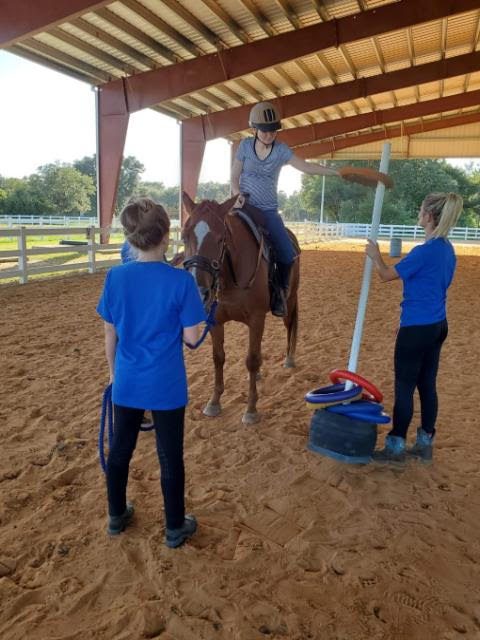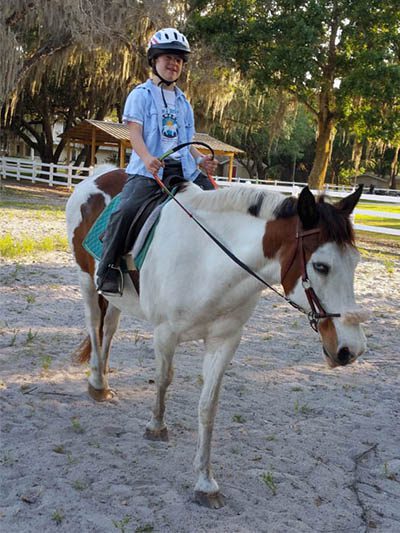 "My son has been riding with SMART for 7 years!  He is 12 years old and looks forward to riding 'his horse' and seeing the volunteers and Samantha Toomey, an instructor and friend. Nate has Down syndrome, Autism and Severe Apraxia, yet Sam understands Nate's personality and how to bring out the best in him and she is so proud of how far Nate has come and shares that with me--which makes me very proud of the entire organization. SMART is a place that REALLY CARES about the riders!  Nate has a lot of struggles in life, yet I see him learning and growing in his horsemanship and social skills. This year he began using the reins to guide the horse himself...which is a huge accomplishment!  Nate can be a handful, yet the instructors never give up on him and love him despite his occasional shenanigans. And that acceptance for who he is and acknowledgement of his great potential, has enabled him to blossom at SMART. The SMART program is perfect for a child who is non-verbal and has limited social skills, because your horse is there under you supporting you the entire time you are trying to get out those simple words 'Walk On'.  And what a motivator to have that horse move forward and take you for a ride after 2 words are spoken. Being on the horse working on social skills, OT, and the physical therapy and receiving sensory input are invaluable. My son is very challenged by the activities done on the horse, yet the joy of riding and the really nice volunteers make the experience FUN not 'therapy'.  Thank you SMART for being a huge part of our son's life and a happy place for him to continue to grow. "
"Sean has been coming to SMART for over twelve years. He still loves every minute of it. He is madly in love with all of the volunteers and Sam is like another mom to him. It is nice to have her as a parenting partner, always keeping him in check, while showing him love and kindness. THANK YOU!!"

Betsy Kennedy
"We are new to SMART, as our son just turned 5, but we have had our eye on them for a couple of years.  Well worth the wait!  Everyone is so loving and caring; truly committed to their riders, and horses.  The barn is a tidy and organized, relaxing break from the busy weeks that so many of us parents spend devoted to our special needs kiddos.  Our guy broke his leg just after the start of the season, but he hasn't been left out.  Sam and Brandi have gone out of their way to ensure suitable activities, and encourage the bond between him and his horse.  SMART (pun intended)!  Cooper loves his barn time, his horse, and all his new friends at SMART.  Having an extra-curricular activity that fits him is invaluable!"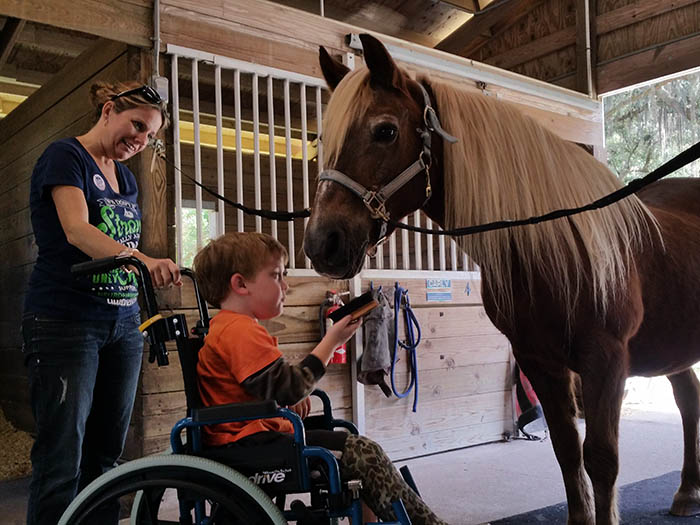 "What a blessing the SMART program was for our son. Along with sensory issues he also can be very anxious especially when trying new things. He overcame his fears and as time went on we noticed a sense of calmness come over him that we hadn't seen before. After a few times...he just wouldn't stop talking about it and I have never seen him smile so much. This program gave him such confidence that is priceless."

Parent of foster child going through adoption process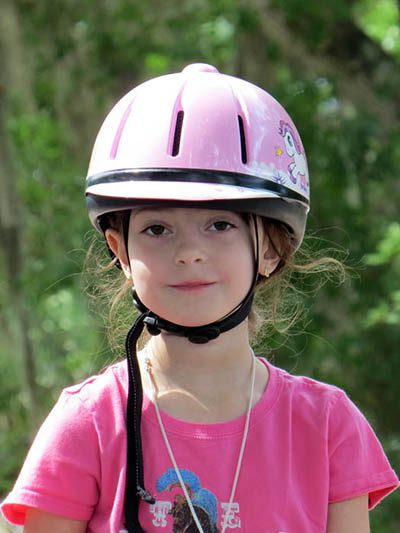 "We are relatively new to SMART. My daughter has SPD, OCD/Anxiety, APD and Scoliosis. I was amazed that after her first lesson she didn't even look for me (the same child who, walking to her lesson, kept looking over her shoulder to be sure I was coming!) Her anxiety is so much better. Also, even more to my surprise, at her ortho checkup I was informed that her curve is correcting itself!  We were told that she would most likely be braced this year as she was borderline, but now not needed! A benefit of riding that I did not know about! The staff and volunteers are amazing, so kind, caring and understanding. I cannot say enough about how WONDERFUL SMART is!"
- Heather Rosin
"When my daughter, Mallory, started at SMART she was bent over in her wheelchair with poor eye contact, soft spoken and her 'canned' answer was 'I don't care.' Now, she sits up straight, speaks louder instead of mumbling, looks people in the face. All I can say is, you should see her now. It's magic!"

Deborah Greenleaf
"Our special needs son has been receiving riding therapy from SMART for over 28 years and has benefited immensely from this caring and professional organization and staff. During this time, SMART has helped our son greatly improve his balance, build his self-confidence, learn to follow sequenced instructions, improve his attention capability, and allow him to have a better quality of life among several other positive benefits. He looks forward to being there every week and it is the one place he truly wants to be and get to on time! As parents, we honestly don't know what we would have done over these past years without SMART since they have also helped our son achieve greater stability in his life in spite of having to deal with some emotional problems along with his developmental disabilities. Thank you SMART and its wonderful Staff!"
- The Lombardos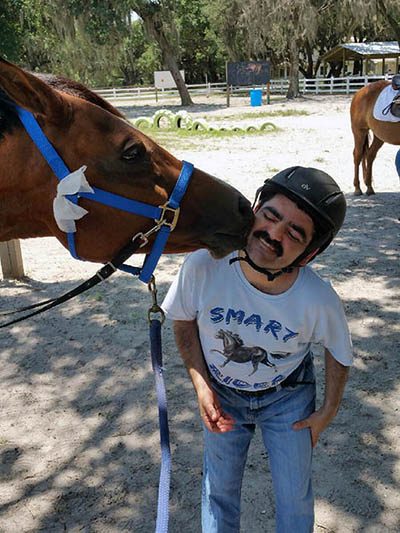 "We only found SMART a year ago and what an absolutely positive difference it has made in my daughter's life. As her mom, I wanted a place with people who would see her for the wonderful person she is. I've watched her entire demeanor change into a more self-assured young woman whose face lights up when we get to the stable. Her verbal skills are improving, her balance and coordination are better, and she is much more self-assured with all the positive feedback that everyone gives to her. Everyone gives so unselfishly of their time and self and are so caring and respectful, supportive and patient. I cannot thank everyone enough for making this experience so wonderful." 

-SMART Parent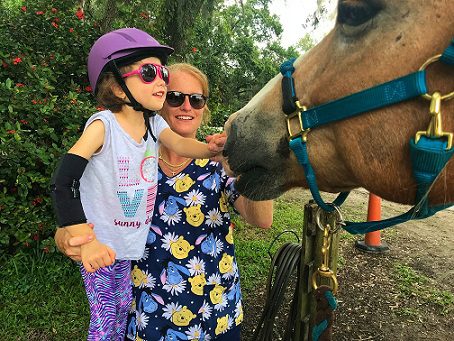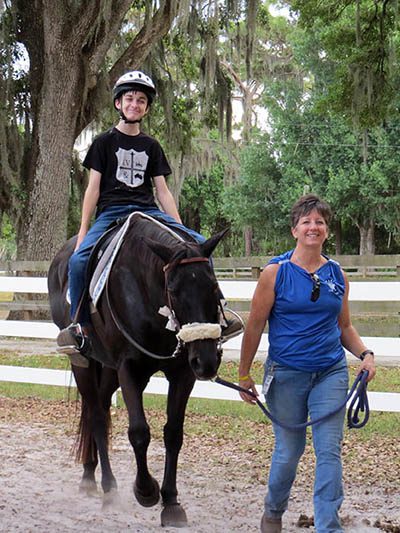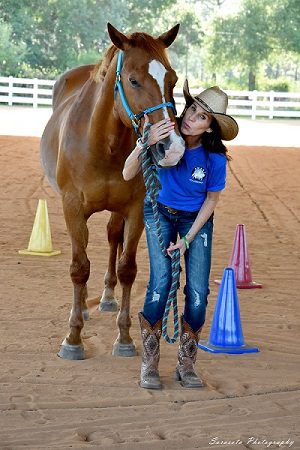 "SMART is an incredible place with people that are connected and passionate about their purpose. I have watched them dip into Childrens' hearts and move defensive blocks away to gain trust, engagement and happiness that surpass other methods of intervention. They are incredible!"
-Kristen Bohan, Occupational Therapist and HPOT therapist
"Words cannot describe the joy I receive from volunteering for SMART.  Between the beautiful well maintained property/barn, instructors, fellow volunteers, horses, students and parents/caregivers, it is just a wonderful place to spend an hour, or two or three or MORE!  If I didn't have to work full-time, I'd be at SMART everyday (I'm serious)!  SMART lives up to its mission on a daily basis, and that's very important.  They don't just talk the talk, the walk the walk.  The staff and instructors really make a volunteer feel like family from day one, and most importantly, make you feel appreciated.  I highly recommend everyone get involved with volunteering for SMART.  Your life will be fuller because of it, I promise.  Go.  Do it now."
-Sue Meduski, Volunteer
"I have been a volunteer at SMART for five years. The dedication, support and love that is shown to our riders, horses, and others is beyond measure! Watching our students grow in their confidence and physical abilities is remarkable! Being a volunteer at SMART is one of the most rewarding experience I've had!"
-Ilee Finocchiaro, Volunteer
"If you have not been out to SMART, do yourself a favor and give them a call. It's a very special place that warms your heart the minute you drive through the gates.  The Staff and Volunteers care deeply about the programs, participants and of course, the therapy horses.  SMART is one of only 11 PATH Premier Accredited Centers in Florida and the only one in Manatee and Sarasota counties.  These folks know what they're doing. You can see the impact on the young rider's faces as they beam atop one of the horses during a class or while feeding treats to their mount afterwards.  It's a special  place....I can't wait to get back out there!"
-Deb Hornbeck, Volunteer