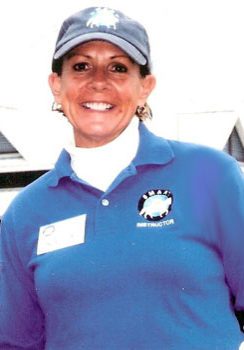 Each year, we present to a SMART Rider the Kathy Logli Memorial Award for Excellence in memory and honor of our friend, Kathy. Kathy was a SMART volunteer and instructor for many years—and during the time she was with us, she brought lots of laughter, love and joy into her lessons and into her work at SMART. She always showed up at the farm with her beautiful smile and playful spirit—and was always eager to get to the task at hand. She shared her heart and soul with all of us–and she shared her horses, Salsa Baby and Drew (as well as the labor and support of her husband, Peter) with us, too.
We will always miss her, but we will always hold her close to our hearts.
Since 2005, we have annually honored a SMART Rider who "stepped up" and reflected some of the amazing attributes Kathy shared with us: Showing up smiling and ready to work, working hard without complaining, achieving goals and stretching for more, reaching out to others, being a "team player", never giving up, being a self starter, always caring.