Art Workshops with Caroline Beach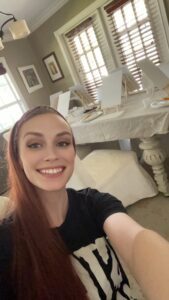 Caroline moved from a small town in Maryland when she was a teenager with her family, but would prefer to Sarasota as 'home'. Always being an artist at heart, and eager to share her passion for art into others - beginners or experienced painter. Dabbling into everything from pointillism with ink, to watercolor paint, and now acrylic - Caroline loves to experiment with new mediums. As an instructor Caroline is very laid back and personable with each student. She is incredibly patient with her students and will always encourage you to enjoy art for the  experience and truly believes that everyone has their own artistic talent to tap into!
Caroline comes from also working many years in the food and beverage industry - and loves to host - so don't be surprised if you find a tray of charcuterie and refreshments on the table during our paint workshops! In her spare time, Caroline enjoys watching documentaries, mastering her crafts, and feeding our horses here at Sarasota Manatee Association for Riding Therapy.
She is super excited for opportunities to spread love, knowledge, and joy through painting together.
See you at the next class!